Referral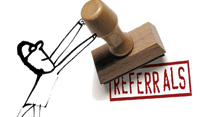 We have a designated Referral Specialist to handle requests for referrals to physicians outside of our specialty. If you have a request for a referral, please contact this specialist.
We ask for 5 days advance notice for these requests.
Note: Due to the increased volume of referrals and physician request forms, there is a "lost fee" charge for duplication. If you lose these documents you may incur a charge for their replacement.