Prescriptions
Because of our large volume of patients and their daily clinical needs, we ask that you give our staff a 72 hour advance notice for prescription refills.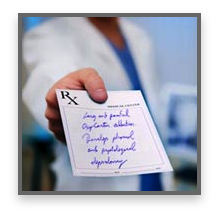 Many times you may already have refills available to you. Simply check the label on your prescription bottle and it will clearly indicate if there are more prescriptions on record for you with your pharmacy. If so, just call your pharmacy with the prescription refill number and they will complete your order.
If not, call our prescription line and leave the requested information and we will check with your doctor for approval.
Please plan ahead for your refills.
There is a $15 fee for any prescription filled outside of an office visit or by special request.
Note: Due to the increased volume of lost prescriptions, referrals and physician request forms, there is a "lost fee" charge for duplication. If you lose these documents you may incur a charge for their replacement.